3/29/2010 12:14:00 AM
Man vs. Wild
where
Bear Grylls
pits himself against nature in dangerous situations to teach viewers how to survive. I really admire Bear and am more than a little jealous at all of the fun he has doing the show. Check out the
Bear Grylls Survival Manual
to learn some of his tricks or
Bear's Blog
to follow his adventures.
Bear is somewhat of a hero to me, and I have always secretly wanted to be his sidekick. Well, now is my chance. The
Fan vs. Wild
contest will let four amateur adventurers compete in a "wilderness boot camp" for a chance to join Bear on a episode of
Man vs. Wild
later this year. From the Men's Journal
announcement
:
If you fancy yourself an adventurer, you're in luck. From now until April 30, you can enter for a chance to be one of four guys to take part in a wilderness boot camp led by Bear Grylls. If selected, your summer adventures — and inevitable mishaps — will be filmed from a remote location. Before your television debut, however, you'll first have to prove yourself to a group of pro athlete mentors, as well as Grylls himself, as they assess your ability to cope with the challenges set before you.

In August, the world will watch you test your limits on a web series at www.FanVsWild.com. No sense in being bashful though — something tells us that the fear of public scrutiny will be the least of your worries once left to your own devices in the wild. This fall, one of the winning four will be featured in a special one-hour episode Fan vs. Wild on Discovery.

Visit www.FanVsWild.com to submit a photo and essay explaining why adventure is in your blood, and why you're the best candidate for the show.
If I can survive that, astronaut training should be a piece of cake! Naturally, I submitted an application. I only had 1000 characters to tell them why they should select me, so I hope I was convincing. We were allowed to submit one photo, so I made a collage of my adventures:
The promotion is sponsored by
Degree Men
. The
commercial
for the Fan vs. Wild contest is below:
Could this be my next adventure? Stay tuned to find out. Today is my seventh wedding anniversary, so I hope
lucky number seven
helps me earn a seat in the Fan vs. Wild competition.

---
3/27/2010 12:15:00 PM
Talking Space
podcast.
@TalkingSpace
is a project of the
Space Tweeps Society
. The panelists interviewing me included
Mark Ratterman
,
Sawyer Rosenstein
, and
Gina Herlihy
. We talked about my job at the Pacific Tsunami Warning Center, the astronaut selection process, my FMARS and MDRS missions, and Mars exploration in general.
Episode 212
is now online, and you can listen to it below:
You can listen to my previous two Space Show interviews
here
and
here
.

---
3/22/2010 12:23:00 AM
Sheraton Waikiki
hotel, which offered breathtaking views of the ocean, as shown from the window in the meeting facility here.  Tracks in the conference dealt with lunar and martian regolith materials, sustainable development, intelligent sensors, aerospace vehicle control, offshore wind turbines, fluid dynamics and heat transfer, structural health monitoring, disaster mitigation (engineering seismology), nanotechnology, and advanced construction materials. I spent the majority of my time at the meeting in Track B, which focused on exploration and utilization of extraterrestrial bodies.  I took copious
notes
from the technical sessions, but I'll just summarize a few of the presentations here.

---
3/12/2010 10:56:00 PM
Image by Phoebe Rourke-Ghabriel
via Runner's World
This month's "I'm a Runner" feature in
Runner's World
magazine features astronaut
Dorothy Metcalf-Lindenburger
. The
interview with Dottie
offers an inspiring glimpse into her life as a runner astronaut.  Like me, she began running in the 9th grade and ended up running the mile and two-mile distances in high school track.  She ran on her college track and cross-country teams while also excelling in school.  Later, she became a high school geology and astronomy teacher and cross-country coach before being selected by NASA in 2004.  Dottie will test her space legs next month on the
ISS treadmills
aboard her first spaceflight on
STS-131
.
The thing that most impressed me from the
article
was the fact that not only did Dottie have a baby while she was an ASCAN; she also completed three marathons before her daughter turned one!  I am in complete amazement because since my son was
born
, I've found it very difficult to train regularly, and the longest race I've run since he's been alive is a
half marathon
.  Dottie's marathon PR is 3:05, so at least I have her beat in that arena; mine is 3:02.
What's the secret to her success?  The mom/runner/astronaut superwoman offers the following:

---
3/09/2010 03:02:00 PM
On this blog, I've shared information about recent astronaut selections by NASA in the US, CSA in Canada, ESA in Europe, JAXA in Japan, and even the possibility for astronauts from ISRO in India. Now China is making news with its latest astronaut selection. According to China Daily and the Guardian, China has chosen seven new astronauts from a pool of 45 air force pilots. The names have not been released yet, but all are between the ages of 27 and 34, and five hail from Shandong Province.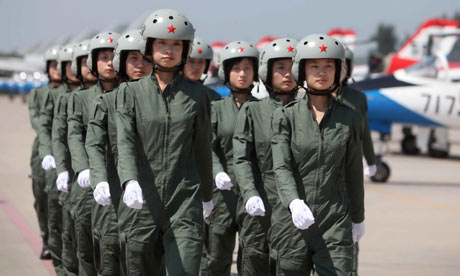 Photograph: AFP/Getty Images from gaurdian.co.uk
Two of the seven new recruits are females, and interestingly, only mothers were considered for the job. This was ostensibly due to concerns for their reproductive well being according to officials since "there is little evidence on how the space experience will affect the female constitution." I guess the effect of space on the male ability to reproduce isn't as important. The articles fail to mention that women are generally lighter and consume less food, air, and water compared with men, making them potentially less expensive to send into space. It does, however, state that women are "more mentally stable, better able to bear loneliness and [have] better communication skills [than men]." The first Chinese woman/mother in space could fly as soon as 2012.
May 10, 2010 Update
Some more details about the new female Chinese astronauts are available
here
.

---
3/07/2010 12:55:00 AM
Now that I've been home from MDRS for a month, I want to pause and reflect upon the experience. In particular, I want to compare MDRS to its sister Mars base FMARS, where I spent July of last year.  I am now a member of a small club who can proudly say we have done a tour at each station, which are the only two mock Mars habitats in existence (for now).



---
3/03/2010 05:08:00 PM
Space may be the final frontier, but 95% of the Earth's oceans remain unexplored. The deep ocean could hold the keys to the origin of life and studying it could enable technological and economic benefits to humanity. That's why the 2001 Presidential Panel on Ocean Exploration recommended that the "U.S. undertake a national program in ocean exploration in which discovery and the spirit of challenge are the cornerstones." NOAA responded by creating the Office of Ocean Exploration and Research, the great Ocean Explorer educational website, and the Okeanos Explorer ship. I had the priviledge of touring the Okeanos Explorer earlier today.


It's worthwhile to distinguish what NOAA means by "exploration" in this context. Exploration is the discovery of new things, not necessarily the detailed study of them. By focusing on exploration, the Okeanos Explorer ("EX" for short), is generating hypotheses rather than answering them. It takes systematic observations to identify new features of interest where scientists may want to later return for more detailed mapping and research. NOAA has a fleet of
19 survey and research vessels
operated by
NOAA Corps
. However, only one of these ships, the EX, is a ship solely of exploration. In that regard, the ship is like the Enterprise from
Star Trek
, and the NOAA Corps
crew
is like Starfleet.

---
3/02/2010 02:05:00 PM
In addition to the excitement from the Chile tsunami, this week is also host to the 41st Lunar and Planetary Science Conference (LPSC) in The Woodlands, Texas.  Back in 2004, I attended the LPSC meeting, which is the world's premier gathering of planetary scientists, and I am happy to have a contribution to this year's LPSC.  On Thursday, I will be virtually presenting research findings from the geophysics projects I did at FMARS and MDRS, including the seismic station installation, electromagnetic survey, and seismic refraction survey.  I say virtually because I unfortunately won't be there in person; instead a colleague will present the poster for me. 

You can read my 2-page abstract online or see the full poster below:

LPSC 2010 Poster



---
Search
Tweets

Subscribe Now
Subscribe to my feed

Blog Archive

Categories
astronaut
(71)
NASA
(57)
space
(57)
FMARS
(32)
Earth
(31)
personal
(27)
Moon
(26)
Mars
(25)
ocean
(24)
Hawaii
(23)
education
(20)
MDRS
(18)
aviation
(18)
NOAA
(14)
fun
(14)
conference
(13)
policy
(13)
A4H
(12)
media
(11)
UND
(8)
training
(7)
websites
(7)
Okeanos
(6)
PISCES
(6)
guest
(6)
Mars500
(5)
HI-SEAS
(4)
Falkor
(3)
ISU
(3)
Atlantica
(1)
InSight
(1)
Venus
(1)
history
(1)

Other Blogs