5/26/2009 01:04:00 PM
To prepare for my upcoming mission to "Mars", I have to make sure I'm prepared for living in remote arctic conditions. This includes knowing how to safely handle a gun in case we run into polar bears, how to drive an ATV, first aid, and being physically fit. In this post, I'll share some pictures from my training activities so far. First, let's set the mood with some music ...


This past weekend, film crews documented all six FMARS crewmembers doing training activities in Florida, Texas, and Hawaii. The idea was to capture the personalities of the crewmembers during our pre-expedition preparations. The footage will be used to produce a short promotional video to pitch the idea to
Discovery network
executives. Assuming they give the project a green light, a film crew will join us for the arctic mission and shoot video for a 2-hour special on the
Discovery Science Channel
. You can see some pictures of them interviewing me here.
I spent Sunday morning at the
Koko Head Shooting Complex
for a one-on-one lesson from a NRA instructor and
gun shop
owner affiliated with the
Hawaii Rifle Association
. I practiced with a 12-gauge shotgun like the one we'll have up at FMARS. Skills I learned included how to safely handle the gun, load it without looking, firing properly, slinging (carrying) the gun, and different shooting positions. In the pictures here, you can see me firing the gun with the film crew watching. I hadn't shot a gun since my Boy Scout days 15-20 years ago, but it didn't take long for me to remember what to do.
Sunday afternoon, we went to
Kualoa Ranch
for
ATV
practice. I'd been to the Ranch once before but was happy to return because it's such a scenic place. Many
movies and TV shows
like Jurassic Park and LOST were filmed there. After watching a short ATV safety video with a group of tourists, I was given a one-on-one lesson with of the ranch's ATV experts. We mostly touched upon ATV operations but also discussed some basic maintenance and troubleshooting, like fueling, flooding, or flipping the vehicle. Then, my personal guide led me on some trails for practice. The film crew followed on another ATV to record the live action. It was a blast.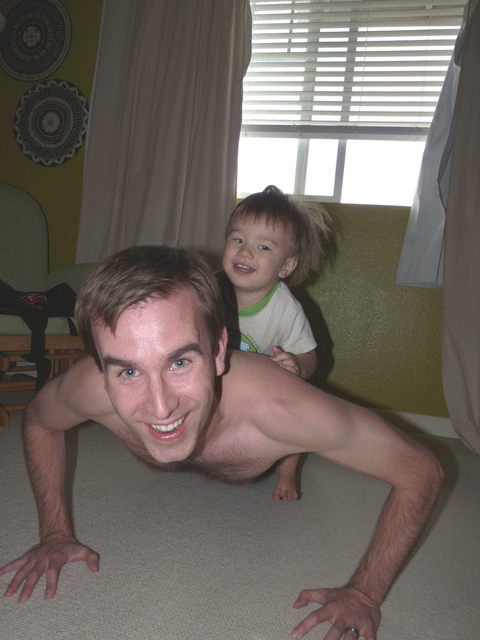 It's also important to be in good shape before any expedition of this nature. This includes making sure you have no dental problems or other lingering medical issues. I'm a pretty fit person anyway, but I have been ramping up my workouts a little to prepare for the mission. The picture here shows me doing push-ups with my 18-month-old son on my back. He likes to try standing up while I do them, which adds to the challenge for both of us. I've also been wearing him on my back in a baby carrier as I go on my evening walk with my wife in our neighborhood. The film crew got some footage of me hiking with him on my back in the woods of Kualoa Ranch.
I was planning on taking a wilderness first aid course in late June since it's been 10 years since I was last certified in that area. However, we've pushed the departure date for the trip earlier, so I won't be able to do it. One of our crewmembers is an EMT, and another is a sports medicine specialist, so I'm not too worried about becoming a first aid expert.
I've continued sending letters to potential funding sources in the hopes of reducing my out-of-pocket expenses for this expedition. So far, I haven't found any scholarship or grant money to help me. If you have a suggestion to help in this regard, please
contact me
. Thanks to everyone who has already
chipped in
to my fund to help pay for my portion of the expedition travel costs. If anyone else out there would like to make a donation, I really would appreciate it.
Onward to Mars!

---
5/20/2009 08:08:00 AM
ESA has just announced its six newest astronauts: Samantha Cristoforetti (Italy), Alexander Gerst (Germany), Andreas Mogensen (The Netherlands), Luca Parmitano (Italy), Timothy Peake (UK), and Thomas Pesquet (France) (Mrs. Simonetta Di Pippo, ESA Director of Human Spaceflight also show in center of photo below). They're the first European astronauts selected since 1992 to the European Astronaut Corps. Note that the selectivity is 6 out of 8413 applicants = 0.071%, not 0.048% as I previously estimated. Congratulations!



---
5/18/2009 04:47:00 AM
It's official. The Mars Society has announced this summer's FMARS mission. We will be the twelfth crew to call the remote outpost home since it was founded in 2000. The Mars Society news release is below:


Return To FMARS: Crew Selected For Mars Society Expedition To Devon Island



The Mars Society today announces the selection of six crew members, chosen to take part in a month-long Mars simulation on Devon Island in the Canadian arctic. This will be the twelfth crew to inhabit the Flashline Mars Arctic Research Station (FMARS), conducting a sustained program of field exploration while operating under Mars mission constraints. The simulation, conducted throughout the month of July, will provide the opportunity to conduct a range of research projects focused on understanding the technical and human factors which may be faced by the first human Mars explorers.

The 2009 FMARS expedition will be led by Commander and Chief Geologist Vernon Kramer of Del Mar College (Corpus Christi, TX), a seasoned mining engineer who has conducted exploration and mining development for multinational corporations in 42 states and 18 different countries. Vernon will be leading a highly skilled team of scientists and engineers. This will include Executive Officer and Engineer Joseph Palaia of the 4Frontiers Corporation (New Port Richey, FL), EVA Lead and Geologist Stacy Cusack of NASA JSC (Houston, TX), Interdisciplinary Scientist Kristine Ferrone of NASA JSC (Houston, TX), Chief Geophysicist Brian Shiro of NOAA (Ewa Beach, HI), and Chief Medical Officer Christy Garvin of Vaughan Elementary School (Powder Springs, GA).

"We have selected a terrific crew for this year's expedition," said Mars Society President Dr. Robert Zubrin. "With this mission, the Mars Society will renew its effort to learn how to explore the Red Planet in the most Mars-like environment on Earth."

The 2009 FMARS expedition will continue the tradition of excellence in scientific and operational research set forth by past FMARS expeditions. The crew will execute an ambitious research program intended to provide improved understanding of how future human Mars explorers will search for resources via aerial, ground, and subsurface geophysical surveys. They also will conduct experiments studying the physiological and psychological aspects of human performance. The crew will perform repairs, upgrades, and improvements to the FMARS habitat, ensuring that the station will remain a premier Mars analog research destination for years to come.

As plans develop to return to the Moon and go on to Mars, analog facilities like FMARS can provide significant benefit to NASA and other organizations as they prepare for significant human space exploration. The 2009 FMARS simulation is occurring at a time when the United States space program is at a critical crossroads, with political leaders deciding if there will be a destination-driven space program conducted in the upcoming decades.

Commander Vernon Kramer sums things up nicely, "I look forward drawing upon the diverse life experiences of this crew as we explore new science and improve our understanding of how analog simulations, like FMARS, can help us prepare to go boldly where none have gone before. Move over Captain Kirk!"

More information about the 2009 FMARS expedition, including crew member pictures and biographies, is available at http://www.fmars.org.

Request for Your Support:

The challenging FMARS program requires significant commitment of time and resources. The Mars Society calls on all those who believe in establishing a human presence on Mars to support this expedition by sponsoring a crew member or by providing a donation to the FMARS program.
Preparations Underway
Since my
last FMARS post
, my fellow FMARS crewmmembers and I have been working on preparations for the expedition. This includes discussions of our gear, supplies, schedule, safety, and even our mission patch design. We're supposed to each work out a way to get some wildnerness first aid, ATV, and shotgun (for polar bear safety) training prior to the expedition. The whole crew will meet for the first time at The Mars Society headquarters near Denver in mid-June.
One exciting development is that a production company will send a film crew with us to document part of our mission for a feature on
Discovery.
We'll also have a
UAV
(unmanned aerial vehicle) with us to do aerial photographic and geological surveys. How many people can say they've piloted an aircraft on Mars!
I've been working hard on my scientific research plans and am happy to announce that
Nanometrics
has agreed to let me test a
Trillium Compact seismic system
during the mission. This will be the first seismic station installed on Devon Island as far as I know, and it will give us a chance to learn how astronauts may work with systems like this in the future.
My other research goal is searching for subsurface permafrost and groundwater. At first, I had planned on using seismic reflection/refraction or ground-penetrating radar, but then I read some papers that argued very convincingly that
electromagnetic methods
hold more promise on Mars. I'm trying to find equipment to help me carry out such a survey.
I've also been sending letters to potential funding sources in the hopes of reducing my out-of-pocket expenses for this expedition. So far, I haven't found any scholarship or grant money to help me. If you have a suggestion to help in this regard, please
contact me
. Thanks to everyone who has already
chipped in
to my fund to help pay for my portion of the expedition travel costs. If anyone else out there would like to make a donation, I really would appreciate it.
Onward to Mars!

---
5/13/2009 12:39:00 PM
CSA has just announced its two newest astronauts: Jeremy Hansen and David Saint-Jacques. They're the first Canadian astronauts selected since 1992 and are the 11th and 12th members of the Canadian Astronaut Corps. Congratulations!

We can expect the European astronaut announcement from ESA next week. NASA's announcement probably won't be too far behind.



---
5/11/2009 10:59:00 AM
Mark your calendars for May 13 and 20. That's when Canada's CSA and Europe's ESA will announce their new astronaut selections.

In a press release earlier today, CSA said it would announce its two new astronauts on May 13. Back in March, I reported that CSA released a great deal of information on the top 16 astronaut candidates in its recruitment campaign. This included biographies of the top 16 candidates and video and photos of their evaluation and testing. CSA has been very good with keeping the public informed through the astronaut selection process with regular posts to its website. I liked how CSA was able to interview a relatively large pool of applicants remotely via teleconference, which is something NASA did not do. As I reported in a previous post, CSA had 5352 applicants for only 2 slots. This makes CSA's selectivity 2/5352 = 0.037%!

May 13 Update: CSA has announced its two newest astronauts David Saint-Jacques and Jeremy Hansen. Congratulations!


---
Search
Tweets

Subscribe Now
Subscribe to my feed

Blog Archive

Categories
astronaut
(71)
NASA
(57)
space
(57)
FMARS
(32)
Earth
(31)
personal
(27)
Moon
(26)
Mars
(25)
ocean
(24)
Hawaii
(23)
education
(20)
MDRS
(18)
aviation
(18)
NOAA
(14)
fun
(14)
conference
(13)
policy
(13)
A4H
(12)
media
(11)
UND
(8)
training
(7)
websites
(7)
Okeanos
(6)
PISCES
(6)
guest
(6)
Mars500
(5)
HI-SEAS
(4)
Falkor
(3)
ISU
(3)
Atlantica
(1)
InSight
(1)
Venus
(1)
history
(1)

Other Blogs